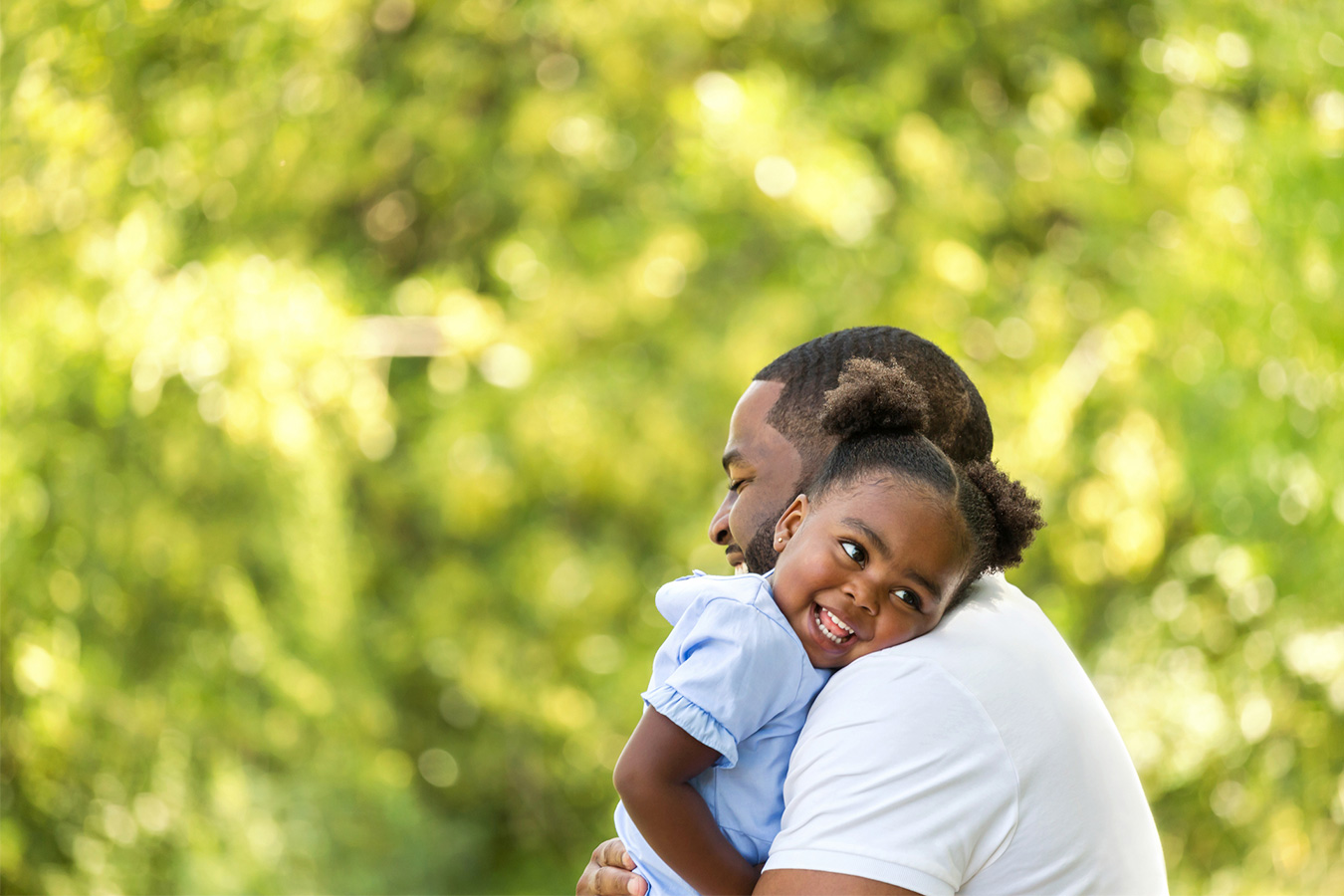 Posted on June 9, 2021 by jhcfadm
James H. Cole Home for Funerals established the James H. Cole Legacy Foundation in 2019 as a way to celebrate the family-owned business' 100-year anniversary, and to thank the community for its continued support. Since it's creation, the Foundation has grown significantly, embedding itself into Detroit, Michigan community and helping to serve our neighbors in a multitude of ways. As a result, we determined that there was a need for a separate Foundation website to be developed with custom content, images, events, blogs, news reports, and much more.
Previously, the Foundation was represented by a single page on the James H. Cole Home for Funerals website, which could no longer house the amount of information available.
"We hope this new website will serve as a powerful tool to help spread the word about our Foundation, and the positive impact that it is already having in the Detroit community. By having the ability to highlight other non-profit organizations that parallel our efforts, we can also provide much needed exposure to these groups; and through our volunteer sign-up page, we can aid our partner organizations by helping to expand their capacity through high valued volunteer leads."

-Antonio Green, James H. Cole Legacy Foundation President
New Website Homepage and Highlights

Our new website has custom designs throughout; a completely unique look and feel that is still reflective of the main funeral home website's layout and branding. In this way, we were able to simultaneously create a completely standalone website with its own unique style that is still recognizable in its relationship to the funeral home website.
The homepage provides content on a wide variety of our initiatives, services, and the website's own functionality. We wanted to place a particular emphasis on our programs, as these are at the core of what we do, which is why this is the first content block listed on the website. Users can learn more about some of our biggest programs as well as donating to these causes by selecting "Support Our Mission."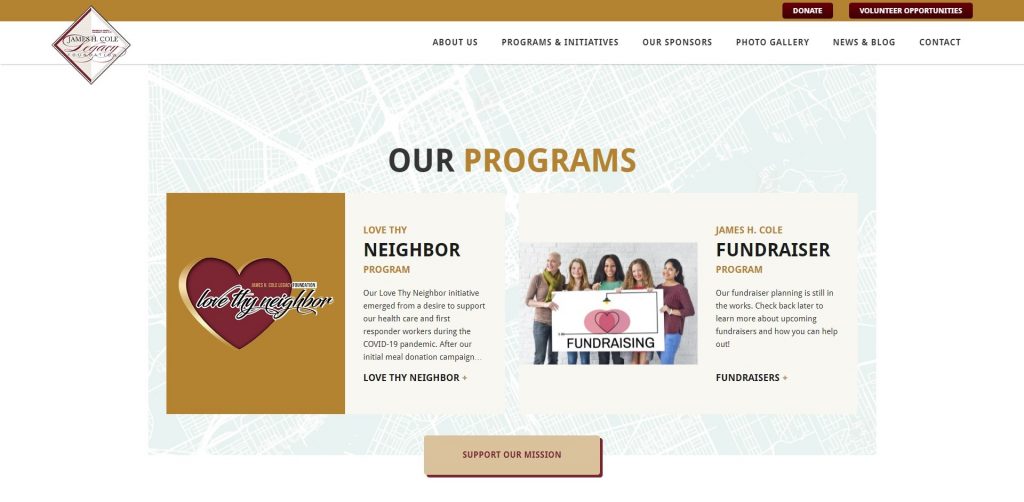 Past and upcoming events are also available on the website, so users can see what is coming up on the calendar – whether it's fundraising events, volunteer opportunities, community celebration events, or important program dates to keep in mind. Selecting the "More Opportunities" call-to-action button takes the user to our Programs page, which outlines all upcoming programs users might want to be involved with.
We're very active on social media, which is often where our followers will first be informed of news, upcoming events, or notifications for volunteer opportunities. Because of this, we wanted to make sure our social media platforms were also represented on the homepage so users can easily reach out, follow, and chat with us using our socials as well as the site.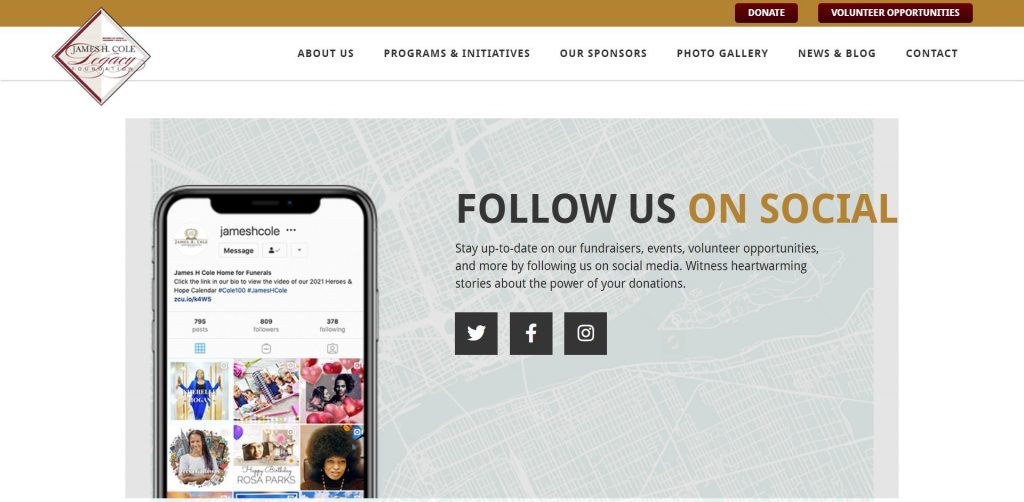 The Faces Behind the Legacy Foundation
In addition to the programs, we also knew that we wanted to highlight the people behind the Foundation, including providing roles, titles, and short biographies. You'll see some familiar faces on our Executive Board – Karla Cole, Antonio Green, and Brice Green – who are all members of the Founding James H. Cole family. Due to restrictions as a result of the COVID-19 pandemic, we have been unable to determine the full size of the Advisory Board, though we are hoping to do so in the near future.
Other Legacy Foundation Features to Spotlight
In addition to the initiatives highlighted on our new website's homepage, there is a considerable amount of additional content, which you can discover using the main navigation.
One of our most popular annual programs is the Heroes Calendar, which highlights individuals throughout Metro Detroit – from essential workers to small business owners – who have gone above and beyond to give back to the community and the city of Detroit as a whole. Of the heroes nominated, 12 people are chosen (one person for each month). Each month/hero page has a custom photo – taken by our photographer at a setting of the nominee's choosing – and a short biography highlighting who the person is, what they do, and why they were chosen.
Physical calendars are available at the Legacy Foundation headquarters until supplies run out, but a PDF version is available on our Heroes Calendar page for download. The 2021 Calendar is currently available.
Other site spotlights include our Donate and Volunteer pages, which make it incredibly easy for those who want to get involved with our organization and give back to their community. These items are located in the meta navigation and take you to the proper content and forms to learn more our organization and your options when it comes to donating money and volunteering for our programs.
Users can also learn more about our official sponsors by navigating to the Our Sponsors page.
Learn More – Blog and News Content
In an effort to bring the most relevant content to our site visitors, we decided to incorporate separate News and Blog sections on the Legacy Foundation site. The News page lists the latest news articles in which the Legacy Foundation was mentioned, as well as press releases and other official organization information located in the local (or national) press. In comparison, you can visit our Blog for more in-depth information about our programs, community outreach tips, past events, and more.
If you're interested in staying up-to-date on our latest blogs or simply staying in-the-know about the most recent goings-on at the James H. Cole Legacy Foundation, each page also includes a Newsletter Sign-Up, where you can input your email address for live updates.
Helpful Resources are also located on most pages to provide quick access to relevant links, similar topics, and our contact information.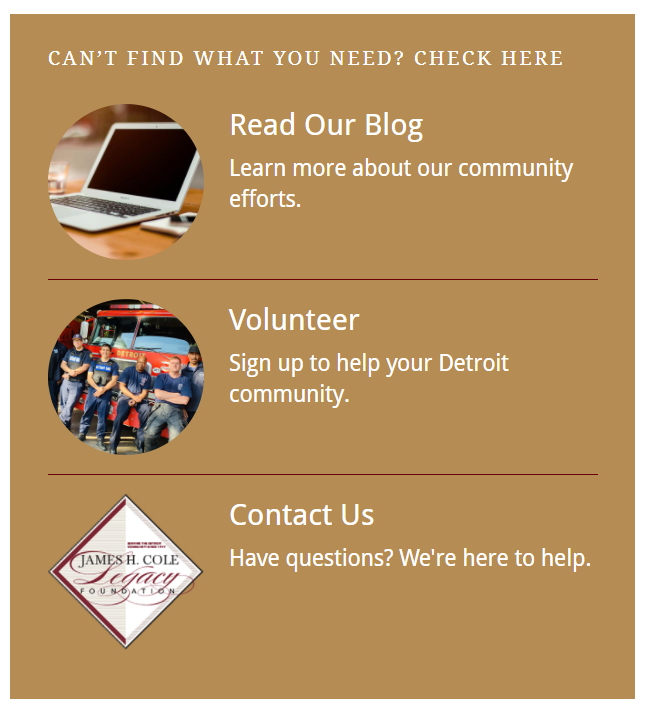 We are thrilled to be able to provide a new website experience for the James H. Cole Legacy Foundation. Created from a need to thank the community for its unending support, we are so excited to see the Legacy Foundation grow and continue to give back to the Detroit community we know and love.
For more information or to ask questions about our new website, programs, and/or how you can get involved, contact us today!
Posted in Latest News, Other