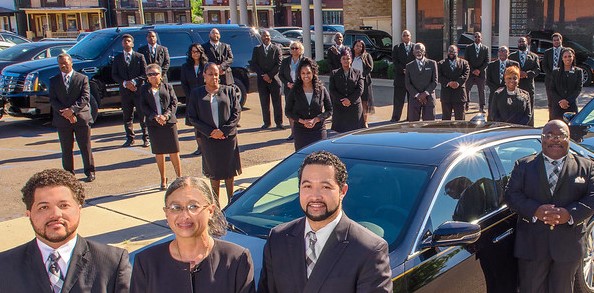 Posted on June 3, 2021 by jhcfadm
After the year that was 2020, the James H. Cole Legacy Foundation – in partnership with James H. Cole Home for Funerals – decided to bring some light to our Detroit, Michigan community by celebrating the heroes, particularly frontline and essential workers, whose tireless endeavors kept the community safe throughout the pandemic. As a result, we founded Love Thy Neighbor, an initiative that thanks our Heroes by celebrating their amazing contributions.
We decided to create an annual calendar – something that has been somewhat of an annual tradition for James H. Cole Home for Funerals – that focuses on the people in our community who have made large strides toward helping others. We have a video you can watch to learn more.
Developing the Heroes Calendar
Choosing who to highlight in the calendar was a difficult feat in itself – with so many individuals to spotlight, narrowing down the scope was rather challenging. Our internal team developed a list of names and each individuals' information to tell their stories. We arranged for our photographer, Annistique Photography, to meet with each individual in a private setting of their choice in order to best safely capture images while adhering to personal comfort and state safety guidelines.
Where Can You Find A Heroes Calendar?
Interested in acquiring one of our 2021 Heroes Calendars? You can pick one up from either one of the James H. Cole Home for Funerals locations (while supplies last). A Digital PDF version of the calendar is also available.
And the best part is, you don't pay a thing! The calendar is completely free – meant to celebrate and inspire individuals throughout Southeast Michigan.
Thanking Our Heroes
It is our hope at the James H. Cole Legacy Foundation to continue this calendar tradition moving forward in order to highlight people throughout the Detroit community who work day-and-night to make daily life a little bit easier for everybody else. We cannot thank these heroes enough.
Want a sneak peak of what's inside? Here is a list of our heroes. From the bottom of our hearts, we thank you for your service and the truly amazing things you do.
Brandon Smith – CEO and President, Star Factory
Byna Elliot – Senior Vice President and Chief Community and Economic Development Officer, Fifth Third Bank
Deborah Foster – Founder, Bethlehem House
Dr. Eleanor Walker – Oncologist, Henry Ford Cancer Institute and Center for Integrative Medicine
Father Norman Thomas – Pastor, Sacred Heart and St. Elizabeth Catholic Church
Gail Perry Mason – Founder, Money Matters Camp
James Harris – Lieutenant, Detroit Fire Department
Jay Marks – Diversity and Equity Consultant, Oakland County Schools
Kwame Simmons – Founder, The Simmons Advantage
Omar Mitchell – Chef and Restaurateur
Sherelle Hogan – CEO and Founder, Pure Heart Foundation
Tresa Galloway – CEO, Love Laces
To learn more about our efforts, check out other James H. Cole Legacy Foundation blog articles.
Posted in Other, Programs & Initiatives