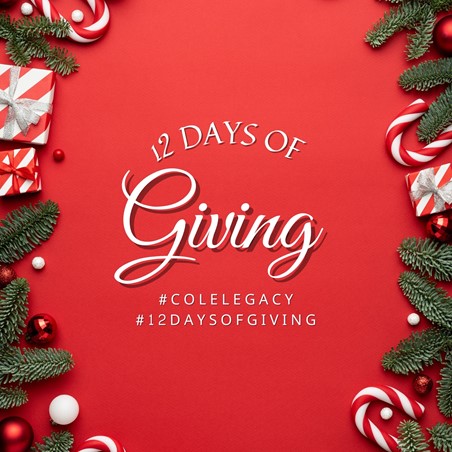 Posted on January 12, 2022 by jhcfadm
During the 2022 holiday season the James H. Cole Legacy Foundation once again honored some of our community's finest "Everyday Heroes" with our "12 Days Of Giving" initiative, which is a part of the Foundation's "Love Thy Neighbor" program.
Twelve local heroes from educators to nurses were nominated by their fellow community members for their dedication to making a difference and going above and beyond to do so.
The Foundation partnered with local Beasley Media Group radio stations to put out a call for nominations and 12 "heroes" were selected to be awarded the honor and receive a $100 gift card as a thank you for their local efforts. During the 12 days prior to Christmas the honorees were also announced each day on the radio stations. Among the honorees were founders of organizations that assist underserved youth, educators that make extra efforts to care for their students and their families, and healthcare workers that care for others even as they battle their own health struggles.
These cherished community members truly embody the mission of the "Love Thy Neighbor" program, which strives to lend our neighbors in need of a helping hand.
2022 12 Days of Giving Honorees:
Orlando Bogins – Principal, Golightly Elementary/Middle School
Dolletta Cash – Engineer/Pershing High School Youth Support Leader
Shaketa Chapman – Registered Nurse, Henry Ford Health System
Michelle Davis – Dean of Students, Davis Aerospace High School
Layna Gardner-Lott – Workforce Development Professional/Chapter President, Twelve Days of Christmas, Inc.
Chetrice Gillon – CEO, Making It Happen Foundation
Kimberly Johnson – Founder, Developing K.I.D.S.
Ericka Page – Director of Youth Services, Detroit Employment Solutions/Detroit at Work
Rhonda Reynolds-Williams – Alpha Kappa Alpha Sorority, Inc. Pi Tau Omega Chapter Youth Committee Leader
Althea Norfolk – Registered Nurse, Sinai Grace Hospital
Mary Topp – Registered Nurse, University of Michigan Hospital
Shecara Vardiman – Founder and CEO, Esteem We, Inc./Detroit Possible, Inc.
Posted in Events, Latest News, Programs & Initiatives